Are you running a local business and looking for ways to grow your SEO rankings to bring in customers?
It might not have crossed your mind, but creating local SEO content could help both your online marketing and ranking.
Because when it comes to optimizing for local SEO, many local businesses tend to overlook content marketing as a viable strategy. This is where you can get ahead of your competitors to attract local searchers.
In this post, you will learn precisely the types of local content you should create and how to set it up to boost your overall website SEO. Before we begin, let's first understand the basics of local marketing online.
What is Local SEO Marketing?
Local SEO is similar to organic search engine optimization, except it focuses on optimizing for local searches.
The idea behind local SEO marketing is to put your business on the map for relevant local searches. Usually, this means ranking for the Google local pack.
In fact, due to how important location is to search results, Google has even dedicated a local search section in its SERPs entirely to discovering businesses available in the area.
Each listing displays the business's name, its address, and the average rating of the business's Google reviews. As you can imagine, having your business reviews here will play an essential factor in influencing your potential customer's decision.
At the same time, other important sections you want to be featured in our Google local pack and organic rankings to be seen on the very 1st Search Engine Result Page (SERP).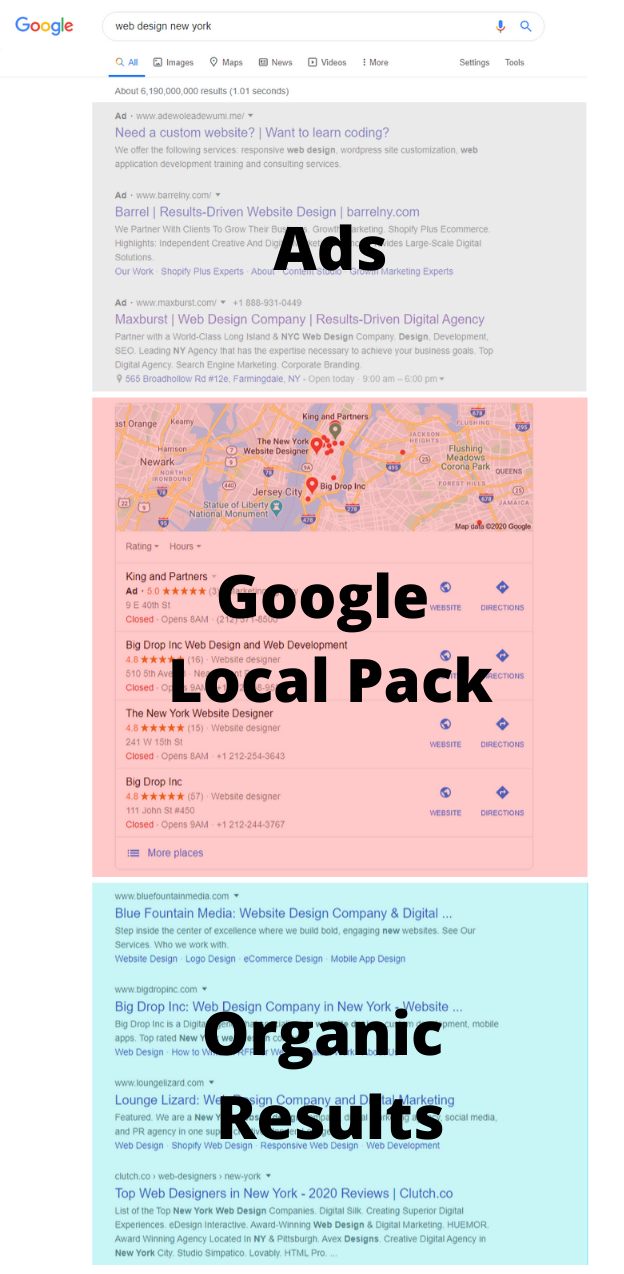 Because according to a Moz study, it is shown that local organic results get more clicks compared to the Google local pack. If anything, this points to the importance of content marketing for local SEO.
How Does Local SEO Work?
Ranking for local SEO used to be pretty straightforward. You need to add your Name, Address, and Phone to your footer, build a few strong directory backlinks, and you will see yourself on the local-7-pack.
However, Google is continuously attempting to provide users with search results that are more relevant to their queries.
Google understands that many users are looking for businesses in their area, and many companies also understand the importance of local SEO. The question is, which one should they show first?
That's why it's so vital that you create and plan a local SEO strategy incorporating content marketing to boost your local SEO.
While most local businesses only have their eyes on the Google local pack, the organic results are also a place to reach your prospects.
According to SEO Tribunal, 97% of people learn more about a local business via the internet before making contact. This means local businesses must produce educational content as well to be highly visible and competitive.
Remember, you want to promote your product and services to local customers at the exact time they're looking for them online, as this will more likely result in a visit to your physical location.
To do that, the primary strategy is to rank for local keywords and searches with content marketing.
Target Relevant, Local Keywords
People search for local businesses every day. Often, they use specific keywords with location names or near-me phrases to discover new companies around them.
For your content to impact local SEO, you will need to choose local keywords that are relevant to your content and that match user intent.
For example, painting contractors in Orlando aren't going to be able to rank for the phrase "Painting services." It's too competitive and too broad, not to mention not local. In fact, trying to rank for "painting contractors in Orlando" is likely not going to be as competitive but much more effective.
Of course, the local keywords that you choose will depend on what services you provide, where you're located, and who you're competing against. You will want to use keyword tools, such as Google Ad Words Keyword Planner or LSIGraph in order to identify the relevant, local SEO keywords that you should target.
Don't forget to do competitive research. Identifying what keywords your local competitors are ranking for can give you an idea of what keywords you should try to rank for (and whether or not you'll be able to compete).
Once you've done your research, create a keyword list.
Rank the keywords you've identified based on their importance and competitiveness. Keep in mind that your content strategy is going to have to address every stage of the customer life cycle (reach, acquire, convert, and retain), which means that you'll need to make sure that you have keywords that match the user intent at each stage.
Besides that, you can also discover the local rankings of your local business and local competitors based on the identified keywords, all with one grid on Grid My Business.
As shown in the image above, Grid My Business will draw a grid around your location and show your ranking based on the search query you aim to rank.
With their 15 x 15 grid, you can quickly identify close to 300 rank positions in one search query. It supports all locations that can be found on Google Maps.
There aren't many tools out in the market like Grid My Business that can provide you valuable insights into your local search rankings.
12 Types of Local SEO Content to Create
Once you have a well-researched keyword list, you will want to develop a strategy that focuses on content marketing for local SEO that enables you to use these keywords so that you can improve your local SEO rankings. The following are 12 types of local SEO content that you should focus on:
City-specific landing pages – All of your CTAs should lead to landing pages. If you have more than one physical location, then you need multiple landing pages. For example, if you have two computer service repair shops, one in Jacksonville, FL, and one in Orlando, FL, then you should have two different service pages that lead to the landing pages focused on their respective locations. Make sure that all of your landing pages are city-specific.

Consistent NAP listings – Your NAP (name, address, and phone number) listing should be posted on every page of your website, but most importantly on your Contact page and your FAQ page. You should also submit NAP listings to local directories.

Local-based blog content – Create blog content focused on local subject matter. For example, if you're running a roof replacement company in Dallas, TX, a blog post might focus on what kind of roof problems a Dallas homeowner is likely to experience. On the other hand, it wouldn't make much sense to write a blog post about roof damage caused by snow.

Local discounts and event promotions – Advertising local discounts and events at your store online will help boost your SEO as a result of being naturally local.

Local press releases – Press releases are not only a great way to increase awareness of upcoming events (such as product launches or special sales) or new services, they can help with local SEO as well. Just make sure that you use relevant local keywords where appropriate throughout your press release (such as in the title as well as the body content).

Local guest blogs – In addition to writing local content for your blog, consider reaching out to other local businesses (that you're not competing with directly) within your industry to see if you can write guest posts for their blog. Doing so can help build local backlinks, which will improve your local SEO as well.

FAQ Pages – One of the simplest ways to create content, you can expand your FAQs into extended content pieces. You can link readers to more information in a full blog post or include a video.

Video Content – Statistics show that video is one worthy area to invest in when it comes to increasing online visibility, so start maximizing your local SEO by adding video content onto your blog or upload them on YouTube. And if you don't have any idea what to create, why not start with repurposing your blog content?

Customer Case Studies and Interviews – One of the more simple but effective content is customer stories. If you already have testimonials on your site, it would work well to expand them with the story details and proof that show your service or product is a success.

Related but non-competitive niche – Combine related niche into your content strategy and attract new audiences. For example, if you are running a gym, you can also, for example, talk about dieting and health since they are relevant topics that your audience would appreciate.

Reviews/ Recommendation Post – If you do your keyword research, you are sure to come across a lot of search queries that are looking for reviews. So why not create a content page reviewing the top businesses or companies and include yours.

Social Media Content – Social media can be a great way to engage your followers, and drive traffic to your website. That's why to further engage your local audience, it's best to create social media posts that are relevant to help promote your website and content.
Local Relevant Content that Rocks
Other Best Practices for Optimizing Your Local SEO Content
In addition to doing thorough keyword research and developing a local SEO content marketing strategy, you should also re-evaluate existing content on your website.
Look at your main web pages as well as old content published on your blog. There's a chance that you can boost your local SEO rankings simply by optimizing older content using the local keywords that you've identified wherever it's appropriate to do so.
An important keyword optimization practice we always advocate is to use LSI keywords in your content.
Conclusion
Attracting local prospects is critical to generating more business at your physical locations. To increase visibility among local searchers, make sure that you implement a comprehensive local SEO strategy that includes a well-thought-out plan for content marketing for local SEO.
Not only will you attract more local customers, but you'll put your company in a much better position to compete with other local businesses.